" Deep down inside, there's a guidar-strumming protest folk singer in all us rockers. "
This is Part Two of our three-part interview with Robert Urban, the New York based musician and songwriter. Mr. Urban has been involved with a multitude of artistic and charitable events at the LGBT Community Center in Manhattan. In this part of our interview, Mr. Urban shares with us the important role that the LGBT Community Center in New York plays in the lives of so many New Yorkers.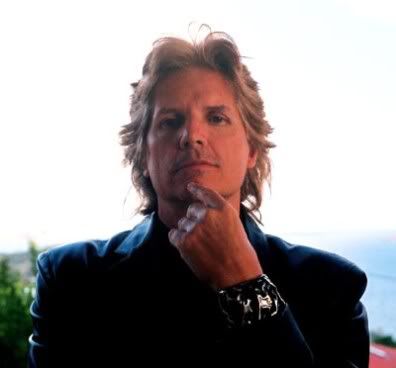 ---
Q. I am grateful to you for agreeing to this interview. You have worked with the filmmaker and activist, Wolfgang Busch. Mr. Busch has an altruistic approach to using arts as a way to empower communities; how do you share in this philosophy?
A. I have been recording and teaching; producing live music concerts, poetry readings and open mics for indie artists and LGBT artists for over 10 years now. I generally leave politics and preaching to politicians and preachers, and instead focus on the arts. It's been my experience that if I can provide opportunities for artists to express themselves – to help them discover their artistic selves - they become empowered in an overall healthy way, and all the other "out" stuff in their lives falls into line.
I have learned that creative artists – including queer artists – are often odd, alienated, socially aloof types. This is ok and natural. They are often more comfortable and adept at expressing themselves artistically (way better than regular people – that's why we turn to them for inspiration and entertainment) than they are socially and politically. I personally don't expect political correctness or social responsibility from artists. I search for inspiration, originality, talent and fire.
Q. You have a background in promoting queer musicians and entertainers. Do you feel that you are an "activist" in the sense that you are trying to help the LGBT community?
A. I guess it could be seen as activism from the viewpoint of mainstream hetero culture. Straights often don't take openly LGBT artists seriously.
Oddly, it is also activism from within the gay establishment itself. In our struggle, we in LGBT culture come from such a ghettoized self-conception of ourselves. Gay men for so long idolized hetero female divas – lip synched to them, dressed like them, and danced only to canned disco & computer music. It's been a real challenge to present genuinely talented, openly queer musicians to gay audiences. It's like gay men never dreamed that a gay guy could wield an electric guitar along with the best of straight players.
Q. Have you ever been involved with any musical events or concerts that are used as benefits for community programs?
A. Yes. Many times. For example, in 2006 I produced, hosted, and performed at a benefit concert for S.A.G.E. at the NYC LGBT Community Center (with sound by Wolfgang!); I've been guest speaker and have presented papers at University Hip-Hop conferences – lecturing on the subject of LGBT hip-hop artists; in 2005 I produced, hosted and performed at the FESTIVAL OF HOPE Benefit for Pancreatic Cancer for Lustgarten Foundation of Long Island; in 2004 I produced, hosted and performed at the "RIDE ON!" Concert Benefiting BRAKING THE CYCLE AIDS Bike Ride at the NYC LGBT Community Center.
In 2003, I created a show for PRIDE AT THE POLLS benefiting the National Democratic Committee to get out the LGBT vote and held at Rainbow Mountain Lodge in Pennsylvania. In 2004 I performed for the benefit of The Radical Faeries at their sold-out "Krazy Kwilt" benefit held at the LGBT Community Center here in NYC. The list goes on and on...
Q. Why do you think artists, producers, or filmmakers should take any role in helping the community? Why should entertainers give back to the community?
A. It's funny – I don't exactly think of it as "giving back" or even as "community" type social work. In my mind, I like to show our LGBT community what great talent it has within its own ranks. I feel it is empowering to both LGBT performers and LGBT audiences. I am so proud of the talent within the queer world – I love to show it off any chance I get. It's kind of like being a child and wanting to show off the mud pies I made at the beach. "Look what I did!"
Q. Wolfgang has a long association with the LGBT Community Center in the West Village. As a writer, musician, and producer, what does it mean to you to have access to the LGBT Community Center (in relation to artistic events that are hosted there)?
A. The Center is a very special place. Over the years I have been involved there in so many different capacities - is too many to recall. I have attended many great seminars, lectures, various self-help group meetings, and many, many musical events there. My first Center-related performance was back in the 1990s. (way back when "out" rock musicians were a rare thing) My band was invited to perform for the Center's 5th annual "Night of Music & Comedy" benefit held at Club Life and co-starring Harvey Fierstein. It was one of my very first performances as an openly-gay musician for an entirely openly gay audience. I was so nervous.
My one great wish for the Center is that they could have a real stage/real theater with audience style seating within the building. Sigh...one day.
Q. How do you feel about being involved in two documentaries (How Do I Look and A True Lesson in Humanity) that have a socially-conscious message?
A. It feels great. It reaches a wider audience than just the usual rock club-crowd. Also, deep down inside there's a guitar-strumming protest folk singer in all us rockers – and to be affiliated with kindred spirit, socially conscious endeavors is very rewarding.
Q. Is there a fine line that one must adhear to, if you are trying to create an artistic work that is trying to be both entertaining and "empowering"?
A. I think if it is entertaining – it will be empowering. As they say, one catches more flies with honey than with vinegar. "Preachy" things are best left to preachers. If you want to get a message across artistically, is best to have your message be also entertaining.
---
In addition to his own 4 CDs (the album "godless" is available on Amazon.com), Robert Urban's work (especially as guitarist) can be heard on the recordings of many other musical artists. Mr. Urban is also an accompanist, session-musician, arranger/sound engineer and private music teacher. He supports the GLBT music community through producing/hosting Urban Productions BOLDLY Presents, the all-GLBT multi-artist live-in-concert music series (now in its 6th year). Mr. Urban is the author of a poetry collection Abominations and founder of Gay Guitarists Worldwide.
For the first part of our exclusive interview with the musician and songwriter, Robert Urban, please visit the Dance on the Runway blog.
Save to del.icio.us